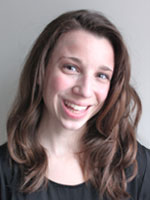 Project Associate
Christina graduated from the University of Connecticut with a Bachelor of Arts degree in Psychology and a minor concentration in Women's Studies. During her last year in college, Christina began an internship with Girls Inc. of Southwestern Connecticut, helping to inspire young women to be Strong, Smart and Bold! It was Christina's experience with Girls Inc. that really sparked her interest to pursue a career focused on helping others.
In March 2014, Christina embarked on the journey of a lifetime to travel and teach English in Thailand where Christina met amazing people, embraced the Thai culture and learned the importance of living life to the fullest. This experience intensified her commitment to creating a career that she would love when she returned to the United States.
Now a Project Associate with The JFM Group, Christina is committed to use her skills to help others. Among her projects, she currently works with The Marine Corps Scholarship Foundation, NewYork-Presbyterian Hospital and Riverside Park Conservancy.
Among Christina's personal, annual charitable commitments are The Bennett Cancer and The Lustgarten Pancreatic Cancer walks. When she isn't in the office she can be found traveling, visiting friends, and exploring New York City.
Email: christinac@thejfmgroup.com