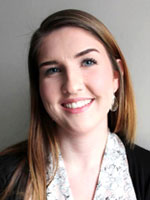 Senior Project Associate
Haley graduated early from St. Bonaventure University in Fall 2014 with a Bachelor's degree in Visual Arts and a concentration in Design. During her time at St. Bonaventure, Haley became a designer for the American Advertising Federation, competing in the National Student Advertising Competition (NSAC) two years in a row. She also freelanced as a Graphic Designer for various on-campus clubs and local small businesses.
After graduation, Haley held a position at Zotos International before taking on a temporary position with The JFM Group in August 2015. At that time, she assisted the JFM team on several events and quickly became hooked! She was hired shortly thereafter as a full-time Project Associate and continues to use her creative background to provide a unique approach to each project upon which she works.
Some of her favorite projects to date are the International Centre for Missing & Exploited Children's Gala for Child Protection and United Way of NYC Women's Leadership Council Luncheon. She has also assisted on several other meaningful projects including: New-York Presbyterian Hospital's Annual Gala Benefitting Spine, The American-Scandinavian Foundation's Spring Gala, St. John's University School of Law 90th Anniversary Gala, The Olana Partnership's 50th Anniversary Gala and The Carter Burden Center for the Aging's 45th Anniversary Gala.
When Haley isn't at work, she enjoys spending time with friends and family, reading a good book and doing freelance graphic design work.
Email: haleyk@thejfmgroup.com