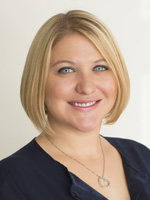 Managing Project Director
A graduate of Pace University, Jessica's professional career began in marketing and promotions where she managed several national programs for clients including Hewlett-Packard, Uncle Ben's, HBO, PepsiCo, Sony, and Jeep. Jessica was promoted to National Coordinator with full responsibility for all her projects while traveling around the country to assure each program's success.
Jessica joined The JFM Group LLC in 2007 as a Project Coordinator and rose quickly to Project Manager and now is the Managing Project Director. Working closely with Joan Morgan, Founder and President, Jessica is responsible for overseeing the day to day management of all the projects and staff. Over the last 6 years, Jessica, herself, has managed a wide range of fundraising projects which include an annual Gala Casino Night; a Memorial Celebration for a major American artist in three locations, a simulcast and 2000-plus guests from around the world; and black-tie galas for a world-renowned medical center, a global conservation effort, and an international humanitarian aid organization, to name a few.
As Managing Project Director, Jessica is able to utilize her leadership and management skills with each member of the JFM team, and their many different personalities and styles, to help achieve the best results for each client. This role allows Jessica to have critical impact on every project that comes through JFM's doors. Jessica's creativity, energy, and interpersonal skills are brought to every project.  Her standards, vision, and talent always make JFM shine a little brighter.
One of her most memorable moments was meeting Liza Minnelli in 2012! Jessica takes great pride in her work and strives for excellence, precision, and grace. When not at work, Jessica enjoys traveling, cooking, volunteering, and spending time with her family and friends.
Email: jessicam@thejfmgroup.com