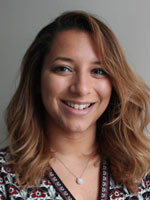 Project Manager
Quin received a Bachelor of Arts in both Political Science and Religion from Syracuse University. During her time at Syracuse she found her passion for non-profit development. She was the Community Outreach Chair for the university's Relay For Life committee and the Susan G. Komen Coordinator for Syracuse University Women's Rugby Football Club (SUWRFC).
Since graduating Quin has had two work opportunities, prior to The JFM Group, which have added substantially to her experience. At the Leukemia & Lymphoma Society (LLS) she assisted the Special Events department as a Campaign Aide. In this role, Quin managed over 150 online fundraising teams, and a dozen regional branches of national and local partners such as Burlington Coat Factory and NYCB. Among her contributions to the department, she created lasting relationships with several of the top ten fundraising teams in New York City and helped secure a significant grant from a corporate team.
Following her time at The Leukemia & Lymphoma Society, Quin joined the Agenda Project, a boutique progressive advocacy firm. Here she focused her efforts on expanding the organization's social media presence, conducting economic policy research, writing news compilations for the weekly briefing, and coordinating the two lobbying events with over 25 U.S. Senators and Congressmen, as well as The White House.
When Quin is not working she can be found volunteering at special events for Gilda's Club, going for long distance runs or listening to live music.
Email:quinw@thejfmgroup.com