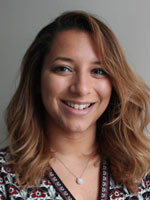 Project Manager
Quin has been with The JFM Group since 2014 where she began as a Project Associate.  At that time, she was part of the team that created the Inaugural Gala for Child Protection for the International Centre for Missing & Exploited Children. That event raised over $1 million in its first-year and under her management has continued to increase annually. Additionally, Quin has worked with NewYork-Presbyterian Hospital which hosted its Platinum Gala at the historic Waldorf Astoria on the hotel's February 2017's closing night; as well as managed Billie Jean King's Women's Sports Foundation's Annual Salute to Women in Sports, The Olana Partnership's Frederic E. Church Award Gala and others. In addition to her work with clients, Quin has also been influential in the creation of JFM's internship program and social media efforts.
Prior to joining the JFM team, she gained valuable experience at the Leukemia & Lymphoma Society (LLS) as a Campaign Aide for the NYC chapter special events team, where she managed over 150 online fundraising teams, and a dozen regional branches of national and local partners such as Burlington Coat Factory and NYCB. Following her time at LLS, Quin joined the Agenda Project, a boutique progressive advocacy firm where she focused her efforts on expanding the organization's social media presence, conducting economic policy research, writing news compilations for the weekly briefing, and coordinating two lobbying events with over 25 U.S. Senators and Congressmen, as well as The White House.
Quin found her passion for non-profit development while pursuing her Bachelor of Arts in Political Science and Religion at Syracuse University. When Quin is not working she can be found volunteering at special events for Gilda's Club and playing rugby for the NYC based Village Lions RFC.
Email:quinw@thejfmgroup.com