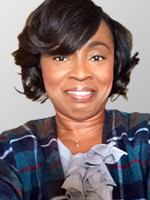 Office Administrator
Cindy began her career as a senior stewardess of the Carnival Cruise Lines where she handled guest embarkation and daily office needs. A native of the small South American town of Georgetown, the capital of Guyana, Cindy's work in the travel industry allowed her to fulfill a lifelong desire to see the world while providing for her son's school tuition in the United States.
After six years, Cindy opted to migrate to the US with him.
Committed to her faith, Cindy focused her time and energy on the greater community and involved herself in outreach to the less fortunate, feeding the homeless as well as providing critically necessary supplies to those who needed them. With scarce available resources, Cindy sprang into action, organizing local fundraisers and events to raise money to meet that community's growing needs.
Cindy's first work with The JFM Group came in 2010 for Evidence, a Dance Company, where she fell in love with what the effort represented. From that point forward Cindy worked with JFM on an as-needed basis before signing on permanently in Fall 2016 as the Office Administrator, as well as, continuing to support the team projects as needed.
In her free time, Cindy enjoys cooking, traveling, going for long walks, volunteering at church and spending time with family and friends.
Email: cindya@thejfmgroup.com
Meet the other members of the The JFM Group